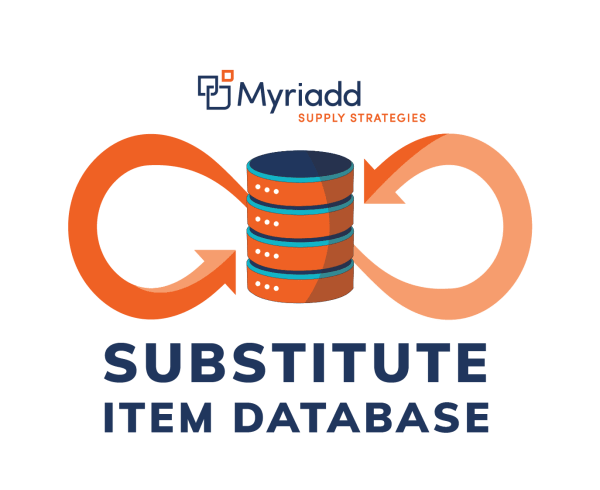 Streamline your item substitution process
Designed by supply chain, for supply chain
Start-to-end process management
Find and request substitutes
Multi-team collaborative support tools
Historical substitute retention
Live chat, alerts, item details, and more
Integration with internal product information
Secure documented user interactions
‏‏‎ ‎‏‏‎ ‎‏‏‎ ‎‏‏‎ ‎‏‏‎ ‎‏‏‎ ‎‏‏‎ ‎
Efficient
Intuitive design allows for minimal user-base to be effective across large scale hospital systems.
Adheres to standard supply chain processes, reducing adoption barriers.
Intelligent slicers and search capabilities for quick identification of substitute items.
Integrated
Connects with internal SKU & PO's to simplify data entry.
Cross-team communication tools for speed to execution of substituted items.
Secure
Independent data structure protects against future business changes.
Customized inputs create clean data for easy analysis of supply chain trends.
---
Why Myriadd Supply Strategies Substitute Item Database?

Knowledge retention and speed to execution are struggles felt by all healthcare organizations. By intelligently localizing internal supply use decisions and offering simple methods of identifying the right products, our database can streamline your system's item substitution process.
Ensuring Future Success: Weathering the Changes
The impact of turnover and business technology changes can immediately be felt when solving supply disruptions. ERP applications are often used in healthcare as the repository for item substitution details, but what happens when your ERP changes? The loss of decision-based knowledge from seasoned staff can derail item substitutions almost immediately.
The Myriadd Substitute Database safeguards those risks with standalone data sources and in-depth audit logs, retaining who approved the item substitution, when they approved it, and the exact steps surrounding the final substitution decision.
Get the substitute item database for your organization!
Contact Us